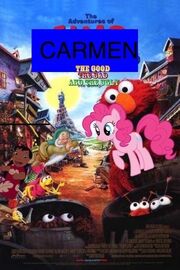 SIR TOPHAM HATT SONG
Edit
Video Game animations
Edit
Some of the characters are in CGI:
Voice Cast
Edit
Carmen: Voiced by Brittany Murphy
Toby: Voiced by Elijah Wood
Bill and Murdoch: Voiced by the late Robin Williams
Peek: Voiced by Jamie Foxx
Cecil: Voiced by will.i.am
King: Portrayed by Hugh Jackman
Carla: Portrayed by Rachel Crow
Zoe and Louise: Voiced by P!nk
George: Voiced by Jeff Bennett
Olaf: Voiced by Josh Gad
Queen: Portrayed by Nicole Kidman
Jafar: Portrayed by Jonathan Freeman
Bug: Voiced by Hank Azaria
Elizabeth: Voiced by Kristin Bell
Villains' defeats
Edit
Jafar: gets stuck in a basket and arrested
Bug: Falls into a rock and screams, "EEEE!"
Ad blocker interference detected!
Wikia is a free-to-use site that makes money from advertising. We have a modified experience for viewers using ad blockers

Wikia is not accessible if you've made further modifications. Remove the custom ad blocker rule(s) and the page will load as expected.