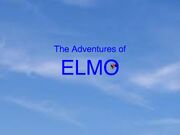 The Adventures of Elmo, known as Elmo to the Rescue in American retitles is a 2016 movie.
Directed by Gary Halvorson
Produced by Bruce Anderson
Screenplay by Sam Harper
Story by Earl Richey Jones
Starring Jesse Eisenberg, Jemaine Clement and Vanessa L. Williams
Music by John Powell
Characters
Edit
Elmo - the main protagonist
Blanket - the dueteragonist
Elmo's friends - the tritagonists
Bug - the secondary antagoinst-turned-true main tritagonist
Scrooge and Helga - the main antagonists
Pesties - the quartanary antagonists
Phantom - the tertiary antagonist
A mean old man will take over the city of London. A small mouse will get his blanket back from him. On the quest, he meets a blue bird, a boy, a shark, 3 trains, a tiger, a monkey, a koala, a fish and a couple of mice.
Sing along video
Edit
The cast are in an order of the movie:
Locations
Edit
UK, USA and AUS Voice Cast (in order of appearance)
Edit
Ernie - Johnny Depp
Bert - Bruno Mars
Elmo - Jesse Einsenberg
Terrence - Rob Paulsen
Bertie / Bernard - Peter Dinklage
Carla - Rachel Crow
Helga - Angelica Huston
Mayor - William H. Macy
Police Officer - David Odgen Stiters
Duck - Will Arnett
Lewis - Pierce Gagnon
Train #1 - George Lopez
Train #2 - Tracy Morgan
Train #3 - Jason Lee
Hoho - Jason Alexander
Victor - Jesse McCartney
Laverne - Andrea Libman
The Mooseseasel - Frank Welker
Shark - Jeff Bennett
Grandma - Rita Moreno
Grandpa - Andy Garcia
Bianca - Amanda Bynes
Scrooge - Jemaine Clement
Bug - Danny DeVito
Moto Moto - will.i.am
Ticket Seller - Kerry Shaw
Conductor - Alec Baldwin
Horse - Jeff Bennett
Gentleman in Paper Suit - Jason Lee
Goat - Keith Wickman
Owl - Patrick Warburton
Queen - Vanessa Williams
Characters in site
Edit
Elmo (voiced by Jesse Einsenberg)
Lewis (voiced by Pierce Gagnon)
Carla (voiced by Rachel Crow)
Fish (voiced by office water cooler)
Hoho (voiced by Jason Alexander)
Victor (voiced by Jesse McCartney)
Terrence and Bertie (voiced by Rob Paulsen and Peter Dinklage)
Bernard and Bianca (voiced by Peter Dinklange and Amanda Bynes)
Laverne (voiced by Andrea Libman)
Scrooge (voiced by Jemaine Celement)
Bug (voiced by Danny DeVito)
Sock Quartet
Edit
The Sock Quarter appear from The Adventures of Elmo in Grouchland. This group of socks from Carla's laundry perform acapella backing for "Together Forever."
DURING THE CREDITS
Edit
At the beginning of the Credits, there is the main cast of the film and there are flashbacks:
Jesse Einsenberg as Elmo
Pierce Gagnon as Lewis
Rob Paulsen as Terrence
Peter Dinklage as Bernard and Bertie
Amanda Bynes as Bianca
Jemaine Clement as Scrooge
Angelica Huston as Helga
Danny DeVito as Bug
Villians' defeats
Edit
Scrooge and Bug: run out of cannonballs and arrested by the Mayor
Mooseseasel: reforms and introduces himself as "BoCo"
Pesties: Flee off before the Cannonballs scene and after Blanket yells his only line, "YOPP!!!!!" saving Elmo and his friends
Bulgy: Stuck under the bridge
Owl: throws Elmo and his new friends off the tree while thinking that they are not worms During the "No! YES!" scene, Scrooge looks out his window and says that the sun is shining, the birds are chirping and the Owl is defeated
Together Forever - cast

As mayor of the City - Mayor

Take the First Step - Stuckweed

Forever - Phantom

Make it Mine - Scrooge 
I See a Kingdom - Queen
I'm Alive - Celine Dion - End Credits Song and Movie's theme song
Here's Elmo
Opening Credits
Bertie and Terrence
"Together Forever (Elmo and Blanket)"
"Together Forever (Laundromat)"
Carla and Helga
Carla and Elmo fight with Blanket
"As mayor of the City"
Scrooge escapes
Mt. Pickanose / "Take Your First Step"
Duck, Lewis and the Train Trio
Hoho, Vicor and Laverne
Phantom
The Mooseasel
The Storm
The Deal of Scrooge and Lewis
Bulgy
Moto Moto's Ghost
"Mine"
The Fish
Wrong Road
The Dark
King Scrooge
Secret Weapon
Construction Zone
Queen
The Battle
Best Friends / "Together Forever (Finale)"
End Credits
Ad blocker interference detected!
Wikia is a free-to-use site that makes money from advertising. We have a modified experience for viewers using ad blockers

Wikia is not accessible if you've made further modifications. Remove the custom ad blocker rule(s) and the page will load as expected.